Hello, everybody!
Just like Karber for SCRS'
Rainbow Leslie
here, I am:
1. JoyFUL
2. Elated
3. and so, so EXCITED!!
I am now part of the
Sparkle Creations Rubber Stamps
Design Team!!! WOOT WOOT!!!!

More specifically, I am to design for mostly the Karber rubber stamps! Aren't they so cute?!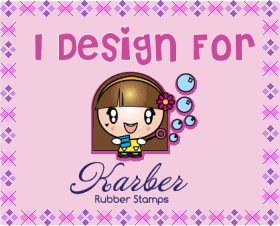 I was very honored when Sparkle asked me to be a part of her team. I was also pleasantly shocked! Uh, me?? I thought to myself, "Are you sure?" while jumping up and down!! My hard work has paid off!!

I LOVE it when the 'popular and talented' peeps in the stamping world give newbies like me a chance. Thank you, Sparkle!! (And many thanks also to the other fab designers who have accepted little ole me in their teams in the past and present-- Amy Young & PWCO).

Watch out, here comes a fresh face .... yippeeeee!!!!

I hope you join me back here and the SCRS challenge blog on Tuesdays! And coming soon, there is the reveal of a new Karber stamp -- she is so adorable!

And one more thing.... did I tell you that I am so very excited?!!

Haha, because I am.

No, really... if you couldn't tell from above, I truly am!!

EXCITED!
And ELATED!

LOL!

Ok, because I'm bordering on being annoying as well and would probably soon lose my audience, I also made this card for the Deconstructed Sketch # 20.

Supplies:
CS- Neenah Solar White. Bazzill.
PP- Bella Blvd.
Stickers- American Crafts.
Scissors- Martha Stewart.

Thanks so much for visiting! :)