I have a birthday coming up.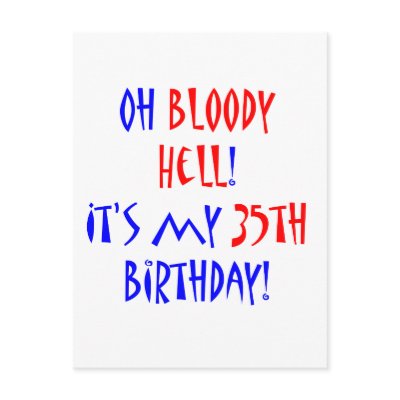 source
At first, I didn't want to post how old I'd be turning. 35. I certainly don't feel old but saying the age or even writing it makes me cringe. I guess I'm not considered that young anymore. I wanted to write something witty here about turning 35. Even come up with pictures, or even a card! I did find lots of posts even though I don't think of it as a major milestone like turning 30 or 40.
Loved Alice's
post
about knowing herself and feeling that the best years are yet to come.
Matt had a great
post
on turning 35 in a social media-crazed world.
Christ Hardwick, a comedian, states "Thirty-five is the age where you have to check a whole different box on surveys." I felt the same way! I'm now under the age bracket 35-50! Aaaack!
Anyway, I know of the lists of "30 things to do before I turn 31." I never started one of those last year but thought I'd write up all the things I did in the last year. But who am I kidding, I got up to # 15, he he! Maybe I'll do one for next year. In the meantime, here are 35 of my favorites. I do like making lists! :)
1.
Haagan daas salted caramel truffle ice cream
.
2.
Frilly headpieces
.
3. Chevron designs.
4. The color orange. And pink. And green. And purple. And teal.
5. LV cross body purses.
6. My
Vitamix
blender.
7. Hello Kitty.
8. Hula/ Tahitian.
9. My cheekbones.
10. Themed parties.
11. Canon cameras and lenses.
12.
Max Studio
.
13. Draw Something.
14.
Catshy crafts
felt flowers.
15. iPhone.
16. Reality shows and musical shows.
17. The sound of my kids' laughter.
18. Traveling.
19. Trying out a new restaurant.
20. Going to the movies.
21. Jason Mraz.
22. Disney.
23. Hawaii.
24. My mom's cooking.
25. My tot's words and funny sentences.
26. My baby's gummy smile.
27. A-days.
28. Sansrival cake.
29. My hubby's cleanliness.
30. Stamps and scrapbooking.
31.
Petunia picklebottom
.
32. Photo apps - especially instagram.
33. Bikram.
34. Feminine tops.
35. Long eye-lashes.
Anyway, this old fart gotta go out and celebrate. I'd love to see if you and I had a few things in common!
Here's to turning the big 3-5!
Love,