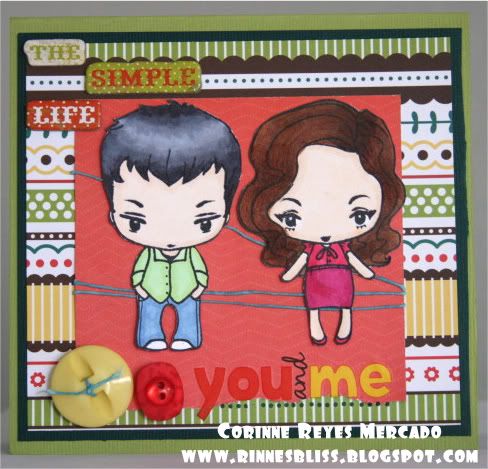 A good friend asked me to make her hubby a card. It's to thank him for being a wonderful hubby especially now that she's a bit hormonal (they are expecting). She chose characters from the Roll Call kit at
TGF
to represent her and her hubby. I'm not sure if you can see it but I did some highlighting on Odette's belly for that little bump.
It's nice to be making another sale :).
Speaking of cool couples, I just adore them (& their kids). But what I really
ADORE
are the bikes!
from Child Mode
They are
Taga bikes
-- three-wheeled stroller bikes. I think it'll be so fun for both the parent and the child!! Aaaacccck!!! I want one!!! I better start saving soon because they cost almost $1500!
I think it's worth it though. I bought a bike about six-seven years ago and it was around $900. This one is much safer and convenient than those tent-like things you put on the back of your bike to carry the little tykes behind you (or even the little seat you place on the front).
Lemme see if my DH will go for it....hee hee hee!
Love,
P.S. Supplies -
CS, PP, Rub-on:
Taylored Expressions
May Key Ingredients kit. (Pebbles Treehouse)
Scrappers Floss: Close to my Heart.
Chipboard sentiments: Basic Grey.
Misc: buttons, Copics, Gina K CS.