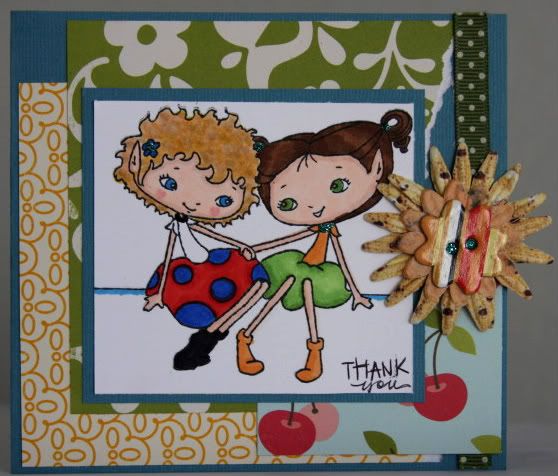 Have you ever watched
9 by Design
? It's about this young, hip couple who are interior designers living in NYC with 9 kids.
source
Now, I admit, I watch a lot of TV. But the quality of the TV shows I watch have improved. Granted, it's still a reality show but I'm learning so much about decorating. I think this type of design also applies to paper-crafting.
Bob & Courtney have a contemporary style and are never afraid to mix old & new & patterns that would not normally mix together. They somehow make it work.
That's the inspiration for my card today. Used the papers from past
Taylored Expressions
Key Ingredients kits. Flowers are from Prima. The cute Darby & Penelope stamp is from
ATS
. It was a gift from the lovely
Amy
!
Such an adorable group of girls. I tried giving Darby curly hair, and as you can see I have some practicing to do. So glad that there's
Color Me Copic
, a new tutorial blog by some of my most fave bloggers and blenders! :)
It's been so hard finding a Copic Certification class around here!
Have an amazing weekend!