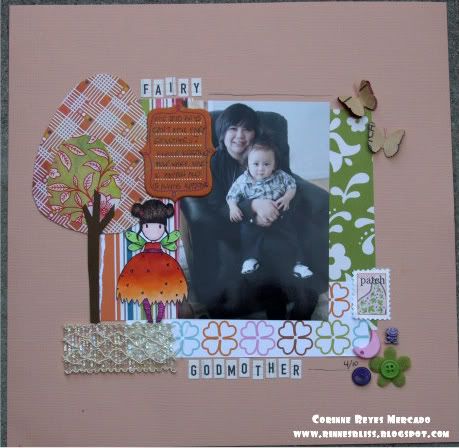 Good Thursday morning, everyone!
Can I just say that these next week and a half will probably be lots of fun but I cannot wait till it's over?
The babe/ tot turned one and the party is coming up!
One of my bffs is having her bachelorette this weekend! There'll be dancing & some alcohol involved and I'm a bit nervous because it's been a while since I've partied.
We are making an offer to this house that looks promising! *crosses fingers and prays*
And I'm tapering off breast milk for the l'il one. (Sorry if this last one is TMI).
WHEW!
I'm tired now just talking about it!
Anyway, the biggest stress/ fun will of course be my baby's vintage circus party. My lil sis, Kristine, has been my right hand in planning this thing. She has always been so creative and talented with party planning. I really couldn't have done it without her!
So of course, she is my son's God-mother. She has been there for him since he was the size of a pea, coming to me on a couple of my appointments while the G was working. She has baby-sat, & even learned how to change a poopy diaper. She always lights up when she sees Mattie. It's nice to see how loved my child is.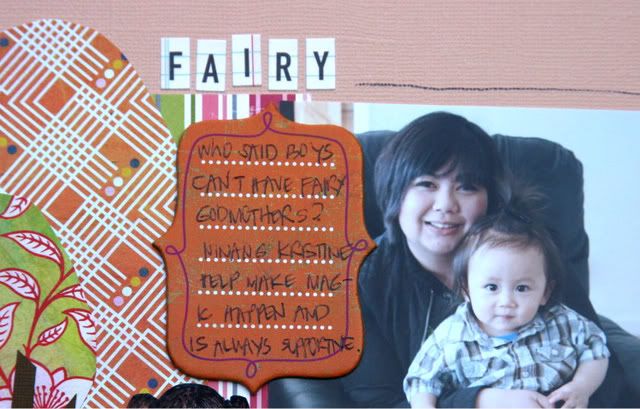 I adore this picture of K & M together. I decided to focus on sissy instead of the litle tot. I used mostly pink, green, orange -- I love this color combo the most! I also used them for my wedding. (BTW, my lil sis also helped me with that one!).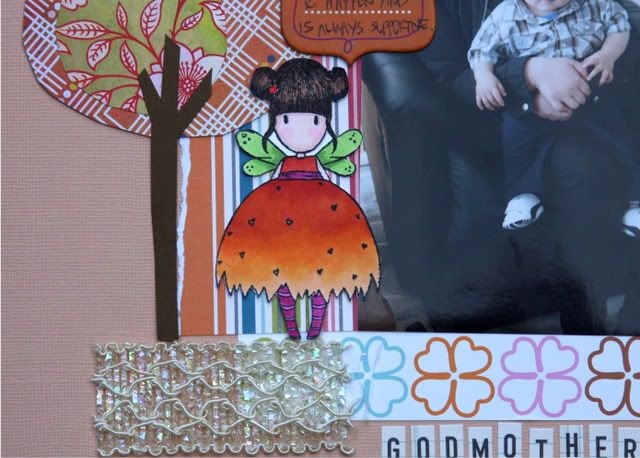 Used Sugar Nellie stamp, Etsy purchases (P.S. It's in the Details - tree & butterflies),
Taylored Expressions
(striped and green PP), October Afternoon letter stickers, embellies from blog candy won at
Stephanie's blog
(moon & cricket beads, sparkly ribbon, felt flower).
(Blogger is having issues with rotation so pardon the last pic!).
Anyway, everyone say hello to Kristine! She's the only one out of my fam who reads my blog! Love you!
XO,