Some of my favorite pics and details from Mattie's Vintage Circus Birthday party. It's a bit busy so bear with me.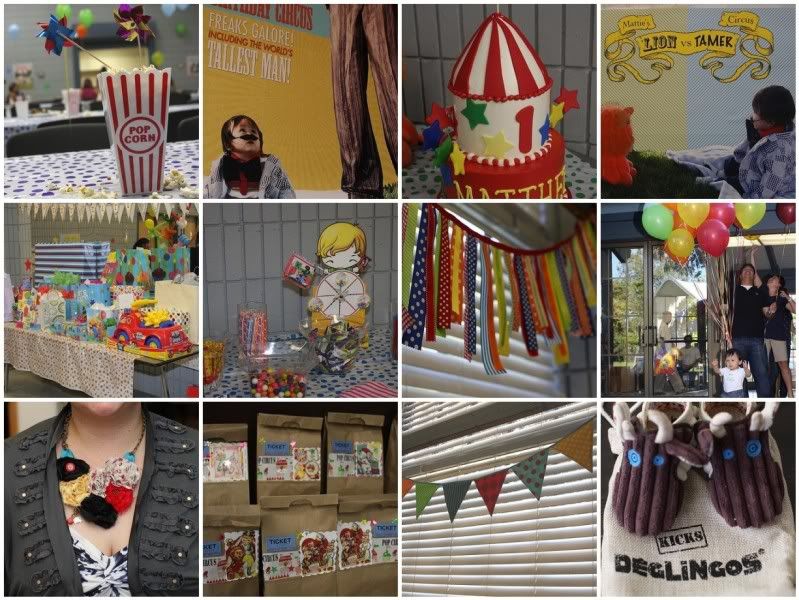 1. popcorn centerpiece. 2. vintage tall man poster. 3. birthday cake. 4. lion vs. tamer poster. 5. personalized banner and gifts. 6. candy bar with
Sunghee
's ferris wheel. 7. bunting. 8. balloons. 9. Ringleader's outfit :). 10. goody bags for kids. 11. more banners. 12. such cute gifts.
I couldn't fit all the pics into one mosaic so there are two more! Hee hee!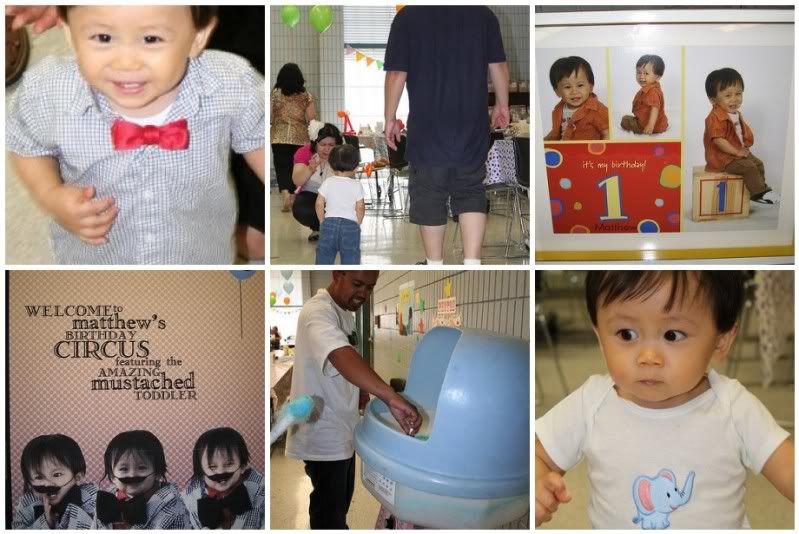 1. main clown outfit. 2. Daddy & son. 3. 1st bday studio pics. 4. mustached poster (all posters made by my sis!). 5. cotton candy machine. 6. second outfit (look familiar?).
1. candy bar! 2. bouncy house. 3. photo booth. 4. make a wish! 5. the circus masterminds! 6. afterparty. 7.
Sunghee
's candy bar creation for adults! 8. balloon twister. 9. watch me grow poster. 10. 'smoosh' cake. 11. pictures taken by moi. 12. having fun!
What I learned from this party planning:
1. There is such a thing as too much cake.
2. When you start off the party fighting with your DH, it is NOT fun. Making up in the middle of it and even bonding in the end are wonderful.
3. Make sure the party hall's air conditioner is really turned on.
4. Tip the vendor who delivered the delicious food on time, NOT the bouncy house company that was 45 minutes late.
5. If you want all the detailed shots or even a family picture, hire a photographer. It is nearly impossible to do it yourself when you're greeting guests and certainly unattainable to ask these of your friends.
6. All the hard work and planning are worth it seeing the kids' eyes light up with excitement... especially when it's your own's.
7. It is nice to get to know old friends as parents.
8. My family is my rock, and the party couldn't have been without them.
9. That said, do not solely rely on others to help set up. Next time, decorate slowly and rent the hall space 2 - 2.5 hours in advance if necessary.
10. We are really blessed to have celebrated MK's party with amazing people, bright colors, and lots of sunshine and happiness to go around!