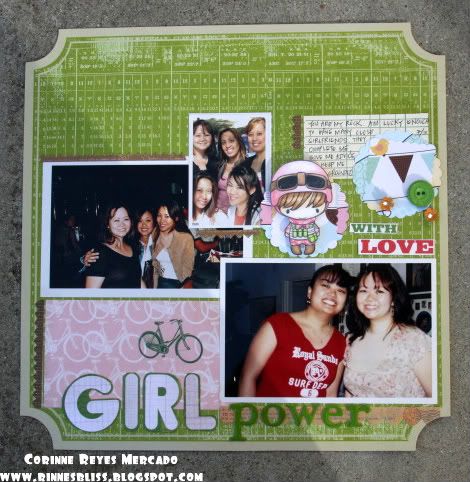 Good Friday morning, everyone!
My
Studio Calico
kit came and I was inspired to make a lay-out. Found these old pictures of my girlfriends and thought it'd be perfect with
Sunghee
's girly
TGF
soldier.
Sunghee
made a tank during the end of our
Royal Battle
term to show our strength as International Ink (although we didn't win). Sunghee's links aren't working at the moment, otherwise I'd link her creative and oh-so-cool battle tank.
Anyway, for those of you who didn't know,
Sunghee
sent me a whole bunch of her 3D projects a couple of months
ago
. Wasn't that sweet? I used them to decorate for the candy bar at my son's bday party but unfortunately, they did not last. I saved some of the images to 'recycle.' (With SG's permission of course).
As for our TGF team, International Ink, I'm happy to say that
Sunghee
,
Sheena
,
Tanya
,
Stephanie
, and I still keep in touch. It's nice to have bloggy girlfriends who support your craft and give you tips on both stamping and life!
And if you haven't noticed, there, in the layout, is my biggest supporter (& enabler) friend of all --
Jo
(in red), who got me started on
TGF stamps
and Copic Markers!
In a couple of months, we get to become Copic
certified
. They're finally coming to our side of town, yippee!!!
Anyway, I am going off on TOO MANY tangents! Back to the lay-out: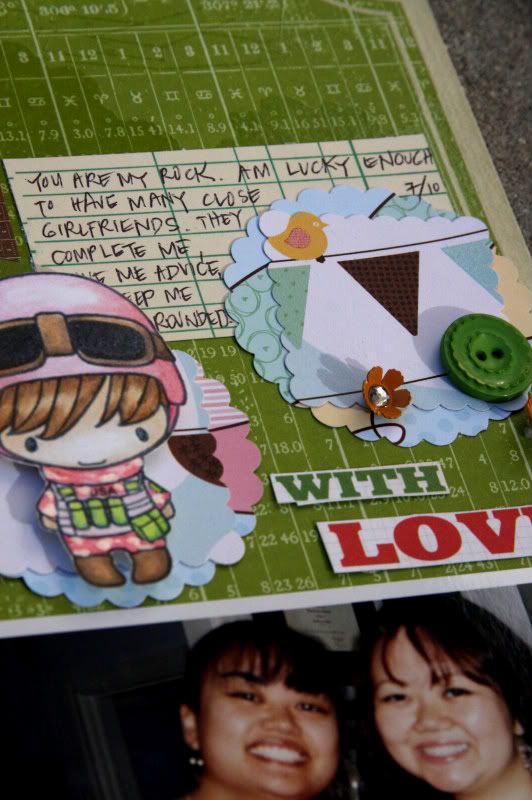 Lots of Studio Calico with Dear Lizzy and punches!
And this girl
get-together
is so funny and inspirational! I think all women should do this!!
Have a wonderful weekend! I'll be working but will catch up on your blogs next week!