Goooood Mornnnnniiiiing, errrrrboddyyyy!!!!
It's Monday... time for another challenge over at
LCOM
. This time, it's all about recipes -- make a card with three patterned papers, an embossed item, and a chipboard element.
I decided to further challenge myself and not use any paper packs or kits for this. My embossed item is the blue / white paper but it's hard to see it here. The butterflies are the chipboard. Used an Alice in Wonderland
Sweet Pea stamp
by Elaine Cox.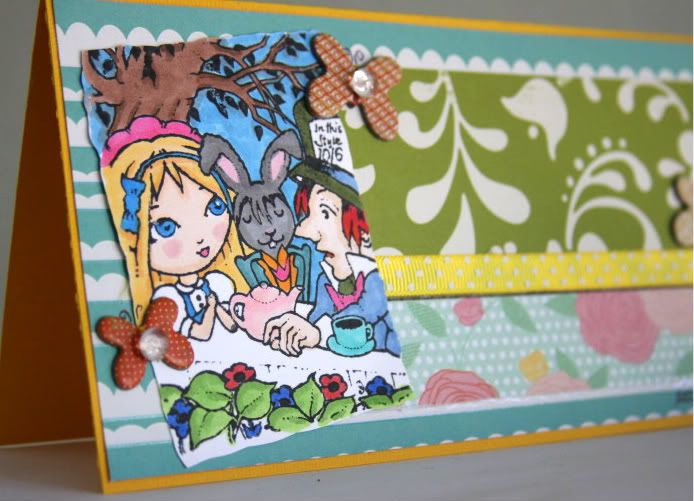 (Haven't found my ink pads but I did find this image that I colored a while back. Think I'll suck it up and buy new pads now).
Here are the rest of the LCOM DT's takes:
Jerusha Borden
Danielle Casello
Anita Mulcahey
Corinne R. Mercado
<----You are here :)
JJ Sobey
Emily Thompson
Melissa Wright
Sandi Johnson
(CDT Coordinator)
Hope you get to play along! Deadline is July 10th, noon AST. At LCOM, you'll win some supplies or even a spot to be a Guest DT! Of course, you also get to post one of these on your blogs:
Toootaloooo!