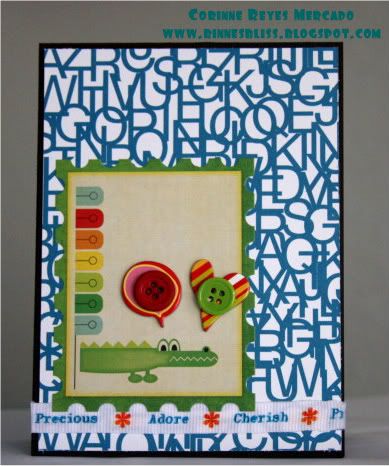 Morning!
It's Monday so I have another card for you for the
LCOM
challenge this week. And that is, to make a kid's card!
And we mean a card for a kid LITERALLY! Not for their parents. I know sometimes I'm guilty of making a kid's card that's geared towards their mommy's likes!
The alphabet PP reminds me of school. And the quirky alligator is just too cute for words! Of course, you can't be more kiddie-like than Sassafras (sticker) and even Love Elsie (caption and heart stickers).
If you play along and win, you could win a prize and post one of these on your blog!
Sometimes, the prize may be even to be a Guest Designer for one week! How cool is that??
Hope you join me and the rest of the CDT! You have till Saturday, July 17th, AST.
Jerusha Borden
Danielle Casello
Anita Mulcahey
Corinne R. Mercado
<----You are here :)
JJ Sobey
Emily Thompson
Melissa Wright
Sandi Johnson
(CDT Coordinator)
Love,