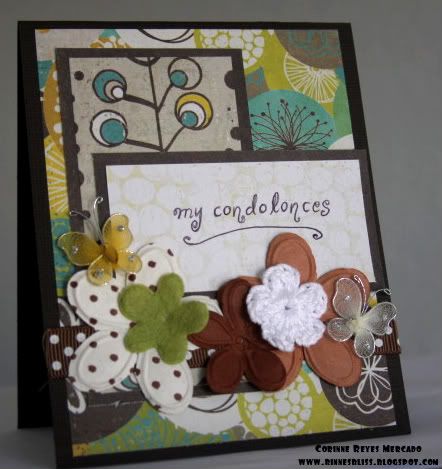 I got cancelled from work yesterday.
The census was low and there were too many nurses on. So they called off the ones they didn't need. Sometimes, we put our names on a list for this reason. But other times (like yesterday), you don't have a choice.
It was sort of a blessing in disguise. I did not get paid but I had gotten some ME time. My babe was at his Grandma's and I had twelve hours to myself. It was great! :) Sometimes you just need that .... although I could've really used the money.
Last week, a co-worker got cancelled unexpectedly. She later told me she was glad because her cat had passed that day. She had the cat for 16 years and was her 'baby.' :(
So I made her this card. None of my stamps called out to me. (And even if they did, I still don't have my ink pads...). So I made another imageless card. I find that I enjoy making these as well.
Used my previous October Key Ingredients kit from
Taylored Expressions
for the CS, ribbon, butterfly, and PP. The flowers are from Prima and
Gauche Alchemy
.
So if you ask my friend T & I if we regret getting cancelled, we'd both say no.
----------------------------------------------
Now unto a similar topic.
I'm in my early 30s (*gasp!*, I revealed my age!!!), married for two years, have a 13-month-old toddler, living in suburbia, about to buy a new home, settled in my career.....
Nice, right?
Sure I'm thankful for my blessings.
But even though I swore to live my life without any regrets, I always wished that I traveled more.
And when I saw this trailer, I think about it more often....
Eat, Pray, Love will be coming out to theaters soon. I can't wait to see the movie. I love Julia Roberts. I thought the book was just ok, but I do love the lessons behind it.
Find yourself, let go of everyday stresses, revel on what's really important, experience different cultures, taste international cuisine, see the world.
I think I'll plan a trip to Europe with some of my friends. Start early enough so that there'll be no excuses :).
Thanks for visiting!