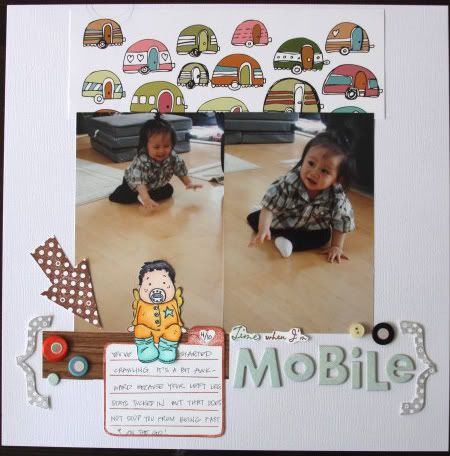 Good Thursday morning, peeps!
I have a semi-late post but am early for a challenge! This lay-out of the crawling monkey-butt is for the
Button It Scrapbooking Challenge
on the Farm blog. The goal is to use buttons on your lay-out.
I used the brackets, arrow, and some sentiment words from
TGF
's kit. But the baby stamp is from
Magnolia
. Of course, I could not resist buying it since it's such a cute little male baby!
The buttons I used were from the
RVA
's Camp Cute kit. I covered some of them with Sassafras stickers. The PP with mobiles and wood (this is actually contact paper!) are from the CC kit as well!
Hehe, pardon my English on the sentiment. It's not quite proper but I wanted to use the sentiment words from TGF. The letter stickers are from Making Memories.
Have a great day! I work again tomorrow but hope you come back because I've pre-scheduled a post :).
XO,
PS. The lil one took three steps un-supported towards me today!!! I hope to take a video of that and his crawling so I can show you all!