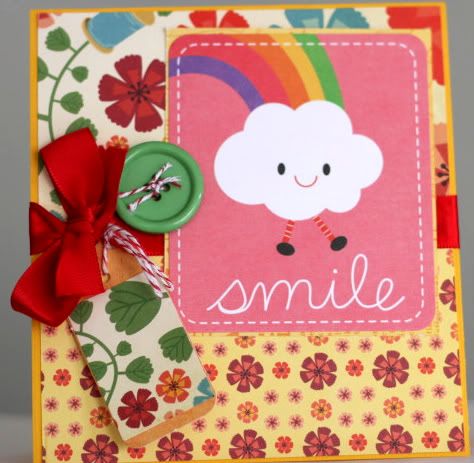 Hi everyone! Hope you are all having a great Thursday!
I've got a super quick card for you today. In fact, there's no stamping involved. I've used a Sassafras sticker and used goodies from my April
Taylored Expressions
Key Ingredients kit.
Today's errands will consist of:
1. Mailing out Mattie's invitations. (i'll show you tomorrow).
2. Booking the balloon twister.
3. Booking a jumper (hard to guess-timate how many kids can make it).
4. Ordering the cake.
Geez, planning your baby's first bday party reminds me of wedding-planning. A lot of people ask why it's such a big event for someone who won't remember any of it. I think it might be cultural-- a Filipino thing. Hope you're not tired of my sharing all the details!
So for the invitations, my sis and I collaborated. It'll be on tomorrow's post, but lemme show you one of my fave pics from the photo shoot that I did with Matthew.
Buwahahahahahaha!!!! this is too funny! the theme is a vintage circus. we were trying to put on the fake
mustache
and his facial expression is hilarious!
Have an awesome day!