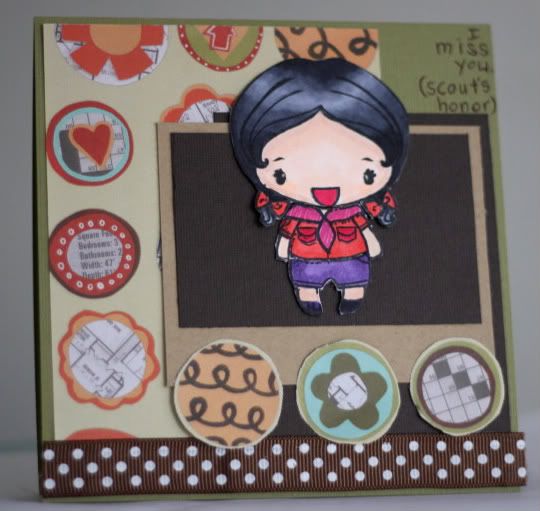 Top of the mornin' to ya, folks! It's Saturday and I'm off this weekend so I'm looking forward to relaxing and hopefully crafting!
We don't have really any definite plans this weekend, and I think i'm ok with that! Sometimes you just need a couple of days when you're not running around to this party or this event during the weekend.
Today's card features an alteration of the Scouts. I took
Anya
Scout's head &
Ian
Scout's body and put them together.
Used a bunch of cardstock and a Love Elsie PP (the circles remind me of badges). The sentiment is handwritten -- sorry if it's blurry. I wrote it 'kid' style and was inspired with the sentiments that
Amy
has been using.
Am not big on sentiments as you could probably tell on my blog. But I am intrigued by the funny sentiments and the 'funky' fonts of these kid sayings. Hmmm, maybe I'll delve into the world of sentiments after all!