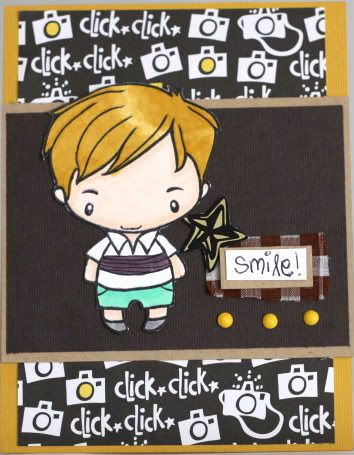 Hello!
I've got a quick and simple card for you. It's got lots of Love Elsie, both old (camera PP) and new (checkered fabric & star sticker).
I absolutely fell in love with her new
Camp Cute kit
. Not sure when I'll be using the rest of the supplies as I have never ever gone camping before. The closest I came to it was when I took my sister and cousins to Yosemite for the weekend, and we rented some cabins outside of the park. He he. After hiking all day, we had to drive the 30 minutes it took to get there.
But this summer, I'm hoping to finally go camping with my hubby's cousins! Yay!
And here's some more eye candy for you...
According to this New York Times
article
, a lot more people are taking photographs of their food and posting them.
I happen to be one of those people who like to document yummy & well presented food so you'll be seeing some here now and then :).
Here's the latest from my outing with some friends at
La Mar
. It was my first time tasting Peruvian food. So good!
1. Fried potatoes and bananas.
2. Cebiche (the national dish of Peru).
3. Peruvian whipped potatoes with Dungeness crab, avocado, cherry tomato & quail egg.
4. Corn Empanadas.
Have a great weekend!