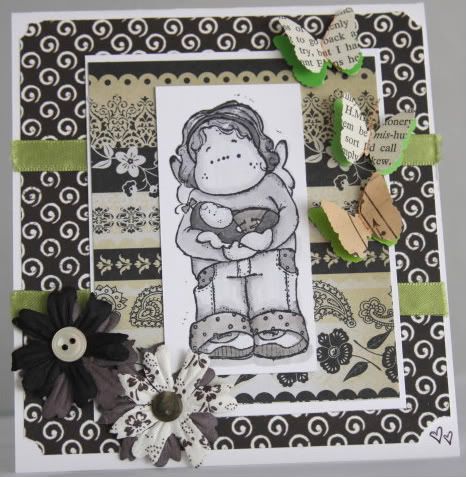 Happy Friday! My card for today is for the
Monochromatic
challenge at Copic Creations.
Played with my W's and T's, and I love the Black & White effect!
This card is for someone who inspires me, especially with her art. She became pregnant after four years of trying and I wanted to send her a note.
The stamp is from
Magnolia
. I'm gushing at this mommy-baby duo, and I am loving the fact that she still has her preggie weight.
My other favorite part are the butterflies. Notice how they're stitched in the middle and a bit of string is left to symbolize their 'horns'. I love
P.S. It's in the Details
at Etsy -- the name says it all!
I'm sure these are easy to make if you know how to use a sewing machine (I learned home ec in the 7th grade but have since forgotten). But she punched these cuties out of old books, & I'm ecstatic when people upcycle!