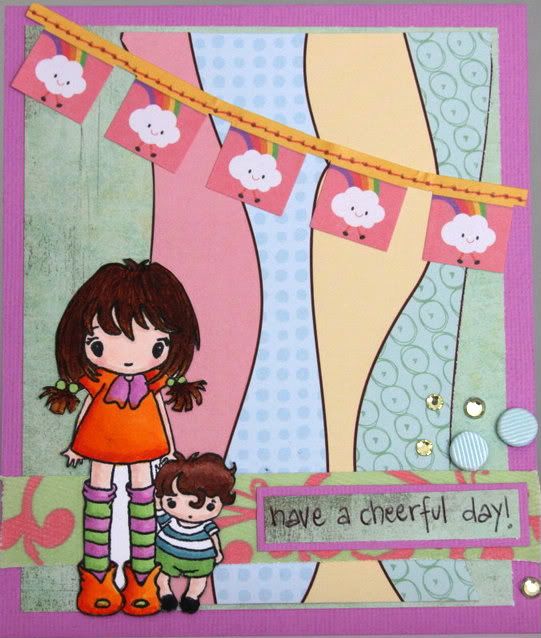 Happy Sunday everyone! Hope you all had a Happy National Scrapbooking Day yesterday!
So i finally broke down and bought some Sugar Nellie stamps. Enabler
BFF
has shown me those cute Manga stamps so I just had to get some!
This card features
Manga Kids
stamp. I think this would also be perfect for a Mother's Day card. Especially since the l'il one is a boy ;).
Now I was more into Anime than Manga but I love Japanese animation all the same. What's the difference you ask? Well, anime is cartoons and Manga is more for comic books.
The style of card I chose to make today is whimsical. Don't you think this image fits the bill? The Manga kids are sooo cute! The CS, swirled PP, and brads are from American Crafts. The green paper is from Basic Grey, and the banner sticker is from Sassafras. The rhinestones are from Kaisercrafts.
I hope you all have a great day. It's my last day of vacay (*sigh*), & I've got lots to do!
And when you have a chance, please check out
Sunghee
's new shop
here
. And if you visit her
post
, she's got some promotions going on as well! Congrats, girlie!
XO,
P.S. I wanted to ask:
When I colored the girl's hair above, my Copic Sketch E55 seems to be defective. The color doesn't apply well, and when I try to blend with other colors, they don't seem to mix. And even when the image is dry, it feels sticky. There still seems to be some ink left, but does this mean it needs a refill?
The ending result seems to show her hair having 'highlights' & that she didn't really fix her hair. Rather, she put it in pigtails before combing it all the way? Thought that was ok since sometimes that's how I do my hair, ha ha!