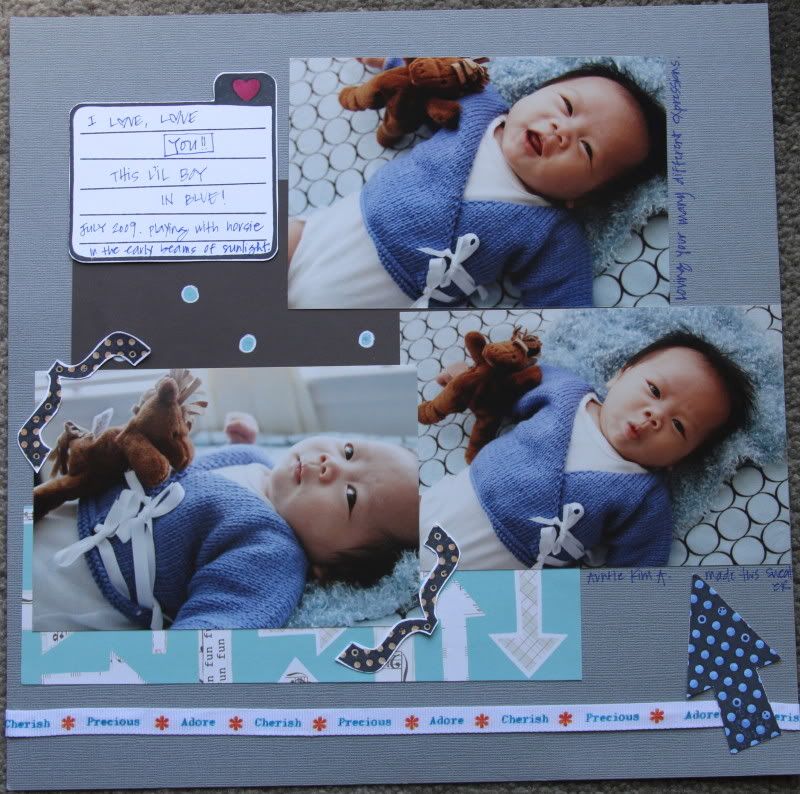 Matthew Kai,
I've forgotten how gummy your smile is.
These photographs were from July 2009 -- you were almost two months.
Now, today on April 15th, you've got four teeth and one pushing through.
You are the delight in my world and your Daddy's.
Today, I am at work and you won't see me until it's dark. Right before bed. Your eyes would light up when I walk through the door. Then we'd wash up and I'd feed you.
Sing you a song and give you kisses.
And lull you to dreamland.
Sometimes I don't eat dinner until 9:30 pm.
And your dad? During this time, he's washing dishes and helping to pack up for the next day if I'm working.
And he's as tired as I am from his job too.
But he waits for me so we could eat together.
*sighs*
I wouldn't trade these things for anything in the world :).
Love,
Mama
*Supplies from Bazzill (CS),
TGF
(stamps), Love Elsie (PP), My Little Shoebox (ribbon)*