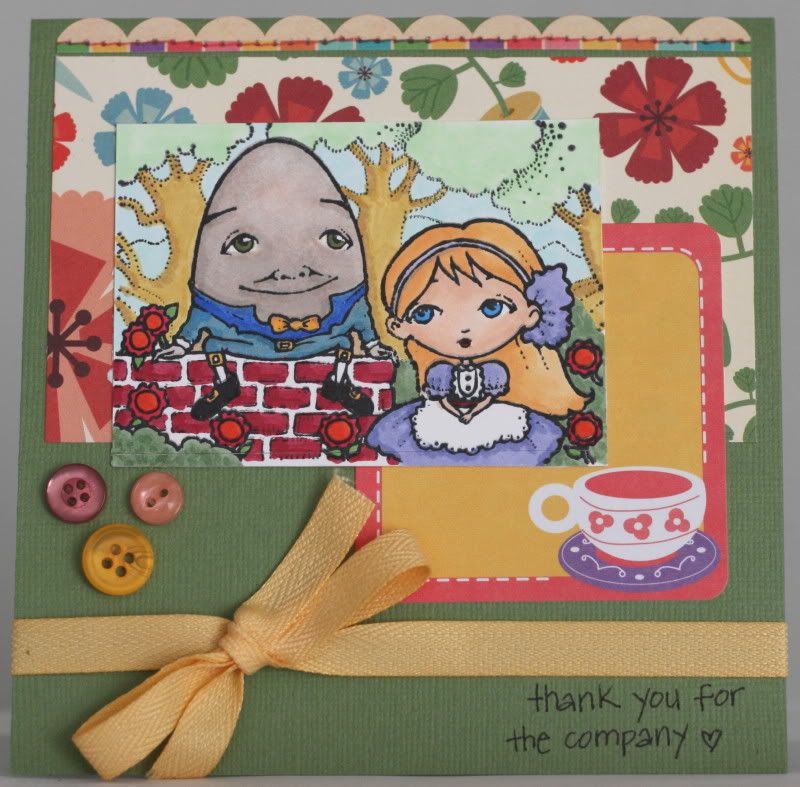 Happy Sunday, everyone! I'll be posting later on to tell you who won my blog
candy
. I'll also post my team's (International Ink) entry for the final round of the TGF Royal Battle.
But first, my card is for the
Oh Alice!
Queen of Tarts Challenge. The goal is to incorporate food in your card.
What I like about the Elaine Cox Alice series from
Sweet Pea
is that it forces me to think outside the box as far as coloring. I'm learning a lot from coloring the background and I'm quite enjoying it. Time to get more Copics, haha!
Speaking of...I was up late last night (actually, this morning) till 2:00 am buying stamps!! I just had to look at my favorite blogs on Google Reader and saw some stamps that I liked -- thanks to 'enabler' BFF,
Jo
, and my new friend & TGF teammate,
Sheena
. I went a bit overboard though and may have bought *ahem*...like a lot! *sighs* Stamping diet? What stamping diet?
In other news, I am so excited about new and upcoming things! I can't talk about them right now but I will soon!
Supplies for the card include the April Key Ingredients kit from
Taylored Expressions
(CS, PP, buttons, ribbon). The border and journaling stickers are from Sassafras.
Enjoy your day!
PS. I don't remember Humpty Dumpty being in Alice in Wonderland (?). LOL~!