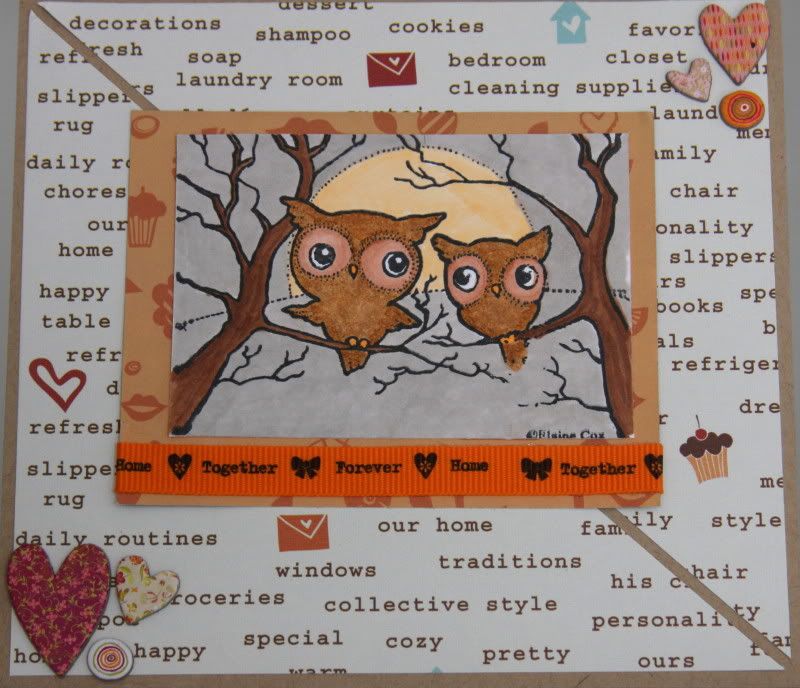 At first glance, you'd probably ask... what do owls have to do with the words in the background??
Well, peeps, this card is for my hubby and it has sort of an inside joke between us. I'll share some of it with ya.
On this
post
, I talked about how the G & I started hanging out.
Well, during those long bike rides, we'd sometimes even be out during nighttime. There was this one time when we ended up sitting on a picnic bench, resting and looking out into the creeks & hills of a nearby park. It felt like it was just us and nature. And the only sounds were of our conversation. We were sitting pretty close for people who were "just friends" and I thought of it as the beginning of THE turning point.
We were not even talking about anything personal or intimate. But I remember that my heart started beating fast and that the wind was tickling my skin. My senses were on high alert. I was sitting so close to HIM! (Ahhh, the start of being in love....isn't it the best feeling??).
This
Owl stamp
by Elaine Cox at Sweet Pea's reminds me of that night. Alone in the midst of the woods, sitting ever so close, listening intently to each other :).
In a few days, we'll be celebrating our 2nd wedding anniversary.
This card has love, lust, and comfort all in one.
I decided to use Love Elsie's Jack & Abby's PP -- the words describe our everyday home life. The ribbon is from My Little Shoebox and the chipboard stickers are from Basic Grey. I also made this for
Inspirational Cards Sketches # 62
.
The scene is colored by my copics. I wanted to show off every texture of feathers on the owls and of bark on the trees.
Hope you all don't mind my analyzing my card again. I tend to do that -- explain why I chose certain elements. I like to do that, too, when I make comments about why I like your cards. Am really detailed-oriented, you see :).
Ok, the l'il baby has crawled up and is trying to lick my knee ... a sign that I must log off now & feed him, LOL! Talk to you later!
TGIF!
****** and don't forget, there's still time to creat a card with ephemera for my Club Anya & Friends Monday Mania challenge. I will be picking the winner tomorrow! **********