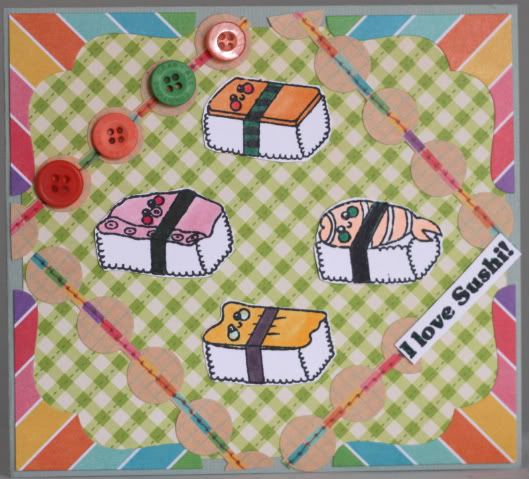 Things To Do Today (X's mean done!):
1. Class for work.
X
2. Shop for birthday outfit for a photo session.
X
3. Shop for nieces. My favorite local children's store closed :(. Found cute gifts at this store.
X
4. Post office to mail out blog candy & get stamps. Aren't these art stamps lovely? I should save some!
X
5. Get lunch (wild mushroom & grilled chicken pizza with whole wheat crust). Yumm-O!
X
6. Make invitation for Mattie's party.
7. Work on favors.
8. Start on upcoming projects.
As you can see, I still have lots to do! So I'll make this post quick. Did a super-simple card. Coloring and embellies are minimal. I left my buttons naked.
Supplies are from
Taylored Expressions
' April Key Ingredients Kit (CS, PP, buttons), Sassafras (stickers),
Two Scoops Rice Designs
(stamps, sentiment).
I got my Sassafras stickers from
Torendi
. And one of my cards with those stickers is featured on their
blog
. Yay! :)
Peace Out! So excited for Glee tonight!