**this is my second post for today. please go here for the first post***
FOLKS, ARE YOU REAAAADDDY???
For my blog candy, I went to a free
number generator
...
And the winner is ....... *DRUM ROLL PLEASE*****
# 20!!!!!!!
Lisa said...
Happy Birthday and thanks for the chance to win!!
Lisa, please email me your address! I'll mail the goodies at the beginning of this week!
Thanks, everyone, for playing along and greeting me birthday wishes!
--------------------------------------------------------------
For the Royal Battle at
TGF
, we are at the final round! Thanks so much for supporting International Ink these past five weeks!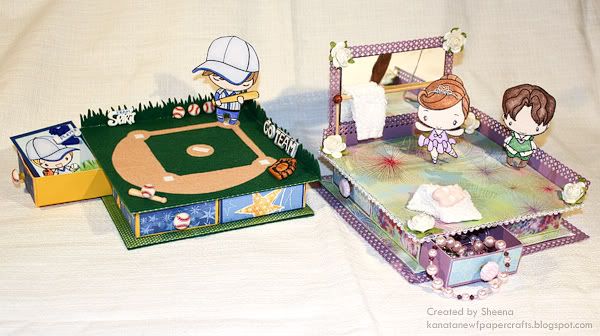 These beautiful creations were done by
Sheena
. Sheena has worked on these for the past three plus days, has gotten sick, and has taken time off from work! Luckily, she's got such a supportive hubby (and teammates, of course!).
And don't ya just wanna say WOW WOW WOW?! These boxes have drawers on all four sides! The drawer pulls have flowers or baseballs! On Ian's 'field,' there is grass and a glove charm, even its own advertisement that says "GO TEAM!" And do you see that Sheena has even made a Batter Anya ATC in one of the drawers? She's done such an amazing job!
Then you look at the girly box and WHOA!!!! It's a ballet studio.. complete with a MIRROR and a BAR!!! There are even towels!! And oooh-la-la, a handsome partner (Prince Ian) to boot! Sheena is also very detailed. You may not be able to see it here, but in the reflection of the mirror, Anya's back is complete and colored!
(i apologize if i'm scaring you by how hyper i am... am wired from drinking diet coke!)
So please! If you see all the hard work my teammate has done and if you like all the details she added to this project, vote for us on the
blog
.
Voting is only for today (24 hours after the final projects are up). You only have one vote, and the poll is on the TGF blog.
I believe that my team has a REALLY good chance of winning. My teammates and I have worked diligently and hard. I am not saying that the other teams deserve it any less. But I believe we have been very creative and unique with our projects. I hope you agree!
And thank you sooo much for all of those who have voted and supported us! Go all the way, International Ink!!!
XO,