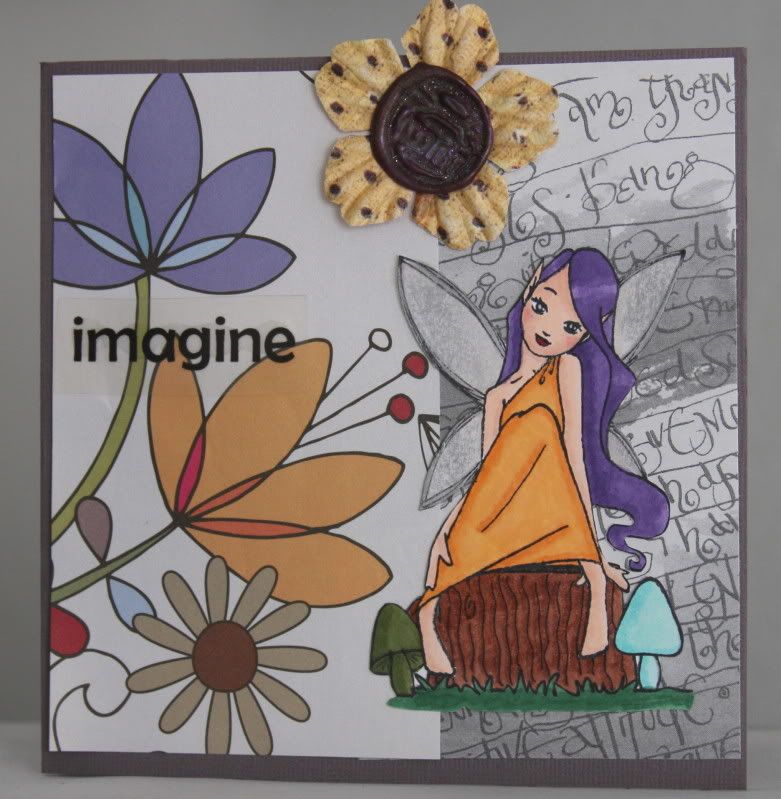 Happy Sunday to everyone! Today's post will be quick.
My card today features
Coriander
from the Sweet November line at ATS. I think she is the most beautiful out of
Amy
's fairies.
Thought she has sort of a pensive expression, so I paired her up with some
kol laj
writing behind her. I also used up a scrap of PP, flower from Prima, and the stamped piece of clay & clear overlay are also from kol laj. Also added some Craft-T metallic rub-ons to her wings to make them sparkle!
We are on ROUND 4 at The Greeting Farm's Royal Battle. You can view everyone's work at the
Gallery
.
I think the entries are quite lovely, but I have to say that our team, International Ink's entry is the most creative and detailed. Here's
Sunghee
's STELLAR take on the challenge of making candy packaging:
I suggest you even take a closer look by going to Sunghee's
blog
post for today. She has a lot more pictures and descriptions. Let me tell you, this girl is THE BOMB ... especially when making altered projects.
I am so amazed by her talent, and I'm not just saying this because she is my friend and teammate. For those of you who are familiar with her work and follow her blog, you know what I'm talking about! :)
If you agree that Sunghee's creation is the best, please vote for us by leaving a comment
here
. We are having technical difficulties so the main picture is not showing :(. But if you click on the link below the picture, you'd get to view it on Sunghee's blog.
If you aren't a registered user at the Gallery, you can register
here
with just an email. Thank you sooo much!!!!
GOOOOOOOOOOO INTERNATIONAL INK!!!!!