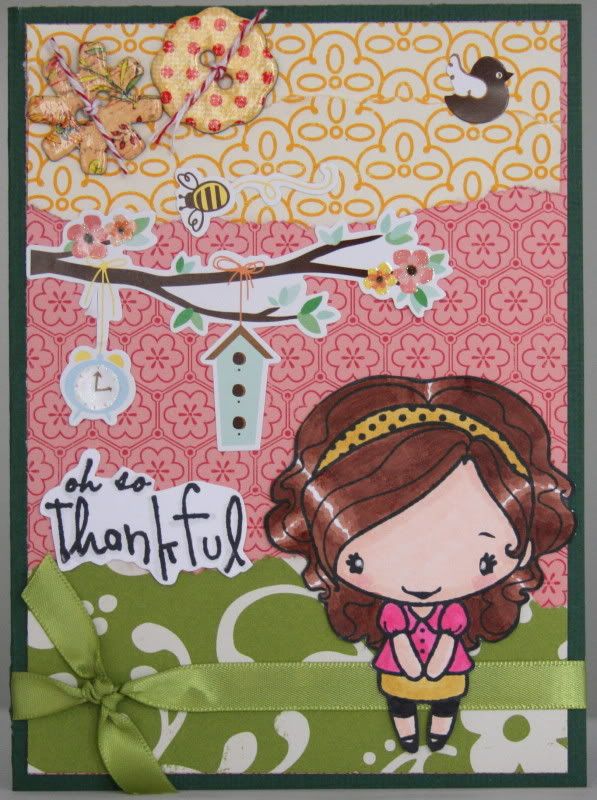 Happy Hump Day, folks!! Just four more shifts, and I'm on vacay for almost two weeks!! Saahhhh-weeeettt!
And speaking of sweet, isn't this new girlie from
TGF
's Spotlight stamping set soo sugar-y adorable?
Decided to make a card with her using the sweetest of products --- Dear Lizzy's Spring line of course! I just love that branch with the birdhouse and clock! Also used some Prima chipboard flowers and PP & ribbon from one of
Taylored Expressions
Key Ingredients kit.
And AAAAAAAAAAAAAAAAAAAAAAAAACCCCCCKKKKKKKKKKKKKKKKKKKKKKKK!!!!! I can't wait till May 27th!!!
And remember that there's still time to win a
Club Anya & Friends
stamp when you join in on the
Monday Mania - Ephemera
challenge that I'm hosting. You have until Saturday, the 17th, to post your creation
here
.
A lot of you may not know what ephemera is. Remember that it is anything that you would not typically use for making a card or scrapbooking. It could be a ticket stub, some type of packaging, a magnet of some sort.
Aside from Kelly's and
Amy's
examples on the post, I've also seen a great example on
Traci's
blog.
And although these are not for the CA&F challenge, I've also seen amazing ephemera used on
Tanya's
ATC and
Yvonne's
creation.
But I discovered the MOTHERLOAD of all ephemera --- this whole
blog
is all about re-using and recycling. And they have a special blog hop on Earth Day! Yippppeeee!!!
Till later!